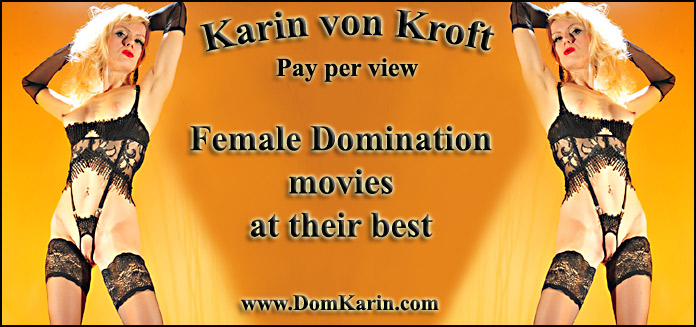 ---
Download the movie and watch it whenever you want!
You need Windows Media Player to play it.
It is recommended to save the video first and than watch it!
To save the video on your hard drive simply make a right click on the link and do Save Target as (in Explorer) or Save link as in (in Netscape).
For any technical questions or problems don't hesitate to ask: support@domkarin.com or check
Pay Per View HELP - Frequently Asked Questions
---
Click the "Buy" button to add a video to your shopping cart.
To view the contents of your shopping cart click here.
Display Options
Use the following options to customize the videos displayed.


Video Results

$12.99
Karin bites Lana's nipples while slave lick her pussy. Then He licks Karin's ass and Lana plays with his balls as his cock is still locked in chastity.



| | | | |
| --- | --- | --- | --- |
| Preview: n/a | Length: 12:51 | Format: MP4 & WMV | Price: $12.99 |

$18.95
Mistress whips his cock, teases it with her pussy while he is tied up. She makes him cum by rubbing her pussy on his cock. He is made to clean his cum.



| | | | |
| --- | --- | --- | --- |
| Preview: n/a | Length: 18:32 | Format: MP4 & WMV | Price: $18.95 |

$13.98
Karin uses double dildo on herself and Lana. She has the slave who is still locked up in chastity, move it for them. Girls are having fun being fucked this way. Karin takes it all the way in so she can feel Lana's pussy on hers. Afterwards slave is ordered to lick Lana's pussy clean.



| | | | |
| --- | --- | --- | --- |
| Preview: n/a | Length: 13:08 | Format: MP4 & WMV | Price: $13.98 |

$12.95
Slave's big cock is squeezed in chastity. Karin and Lana are playing with it, teasing it and rubbing on their pussies, which is a great torture for him. He is so close to the girls but yet the chastity is not allowing him to get fully hard and feel them.



| | | | |
| --- | --- | --- | --- |
| Preview: n/a | Length: 11:44 | Format: MP4 & WMV | Price: $12.95 |

$11.87

| | |
| --- | --- |
| Tormented and made to cum 3 times- 3 | |

The slave is tied to the post while Mistress pees and spits in the glass. She decided to make a cocktail for him and milks him into the glass. He is made to drink it. Then she is still not done with him. She forces him to cum third time. He will be miked dry. After he cums he is extremely sensitive. She still plays with his cock tormenting him with her touch and her nails.



| | | | |
| --- | --- | --- | --- |
| Preview: WMV | MP4 | Length: 09:39 | Format: MP4 & WMV | Price: $11.87 |

$11.99

| | |
| --- | --- |
| Tormented and made to cum 3 times- 2 | |

Karin decides to ruin his orgasm. She puts oil on his cock and rubs her foot on it. She pees on his cock and uses it as a lubricant. She edges his cock and finally he drips cum out. Karin laughs about his cock begging her to cum and about big load of cum that has to wait to squirt.



| | | | |
| --- | --- | --- | --- |
| Preview: WMV | MP4 | Length: 11:45 | Format: MP4 & WMV | Price: $11.99 |

$17.99

| | |
| --- | --- |
| Tormented and made to cum 3 times -1 | |

Mistress Karin wears leather outfit, net stockings and mules. She has her slave tied up with his legs apart. She teases him and kicks his balls. She makes him kiss her feet to thank for the kicking. She decides to gag him with her panties. She flavors them with her pee. She makes him suck on them while she kicks his balls.



| | | | |
| --- | --- | --- | --- |
| Preview: WMV | MP4 | Length: 17:11 | Format: MP4 & WMV | Price: $17.99 |

$19.89
Mistress Karin doubles her pleasure by ordering the cuckold slave to first lick her clit and then her asshole while she fucks the other slave. Lana makes sure he does a good job with his tongue. Karin deepens the cuckold's humiliation by ordering him to jerk off on Lana's breasts and lick up his cum.



| | | | |
| --- | --- | --- | --- |
| Preview: n/a | Length: 17:09 | Format: MP4 & WMV | Price: $19.89 |

$15.97
While Lana and the cuckold slave watch, Mistress Karin inserts a butt plug in her ass and fucks the other slave. Then Karin and Lana take the cuckold slave out the cage and give him an up close and personal view, with his face is only inches away as Karin slides the other slave's cock in and out of her pussy.



| | | | |
| --- | --- | --- | --- |
| Preview: n/a | Length: 12:44 | Format: MP4 & WMV | Price: $15.97 |

$15.95
As this slave discovers, Mistress Karin's pillory lends a new meaning to "take it like a man." With his cock and balls trapped in the device, he is helpless to move or even flinch under Karin's relentless torment. She whips his cock, spikes it with her stiletto heels, and crushes his cock and balls beneath her feet. Finally, for her cruel amusement, Karin continues stimulating the slave's cock after she has milked his cum.



| | | | |
| --- | --- | --- | --- |
| Preview: WMV | MP4 | Length: 14:48 | Format: MP4 & WMV | Price: $15.95 |
---
PPView ver 1.0
© 2002 Medianine.com